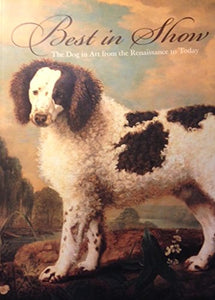 Dogs have been featured in works of art in various ways--from primary subjects to supporting characters to props. Best in Show by Edgar Peters Bowron, Carolyn Rose Rebbert, Robert Rosenblum, and William Secord is the most up-to-date, comprehensive survey of the dog as shown in painting, sculpture, works on paper, and photography from the end of the sixteenth century to today.
This beautifully produced book features more than sixty works by such illustrious artists as Jacopo Bassano, Titian, Frans Snyders, George Stubbs, Thomas Gainsborough, Rosa Bonheur, Sir Edwin Landseer, Giacomo Balla, Andy Warhol, David Hockney, Andrew Wyeth, and many more. Four fascinating essays by distinguished scholars discuss the dog in the context of the art of the sixteenth through the twenty-first centuries; examine the development and changes of breeds over the years; and outline the results of scientific inquiry over the centuries regarding the nature of dogs.
Best in Show brilliantly illuminates the captivating and intriguing history of the dog in art--offering myriad interpretations and irrefutable reasons for celebrating "that artist's best friend." 118 color illustrations and over 30 breeds represented.